Posted by Lea · December 19th 2018
This month was such a difficult decision to pick our favourite entry, as we received such a unique variety.
Some months we have a real stand out winner for our Share & Inspire competition making it easy for us to choose our favourite Rockdoor to shine as the Share & Inspire winner. This month, however, it was a tough decision with so many fantastic and unique entries.
Each month we get a number of Vogue and Vermont entries with the modern styles of composite doors being the most popular doors we manufacture. This month we received such a wide variety of front and back door and we are so happy! We offer such a large range of door designs from contemporary solid doors like our Indiana door with the highest thermal rating to French doors that let ample light in whilst keeping the cold out, we have something to suit everyone's taste and lifestyle.
One of the contenders for Novembers winning Share and Inspire spot was a White Illinois Pinnacle, a classically designed door that will suit most properties. The 'Pinnacle' glass design brings the door into the twenty-first century with its modern glass design – perfect if you're after something traditional but distinctive. We have a feeling that White composite doors are going to boom in popularity in the new year, so be ready to see Front Doors, Back Doors, French Doors and Stables, all in this timeless colour!
Of course, it wouldn't be our Share & Inspire competition without a Vermont entry! And this month's certainly was a stunner – a Vermont in Irish Oak with Grey Shades glass finished off with misted glass side panels and colour matched frame almost pipped this months winner to the first position – but not quite!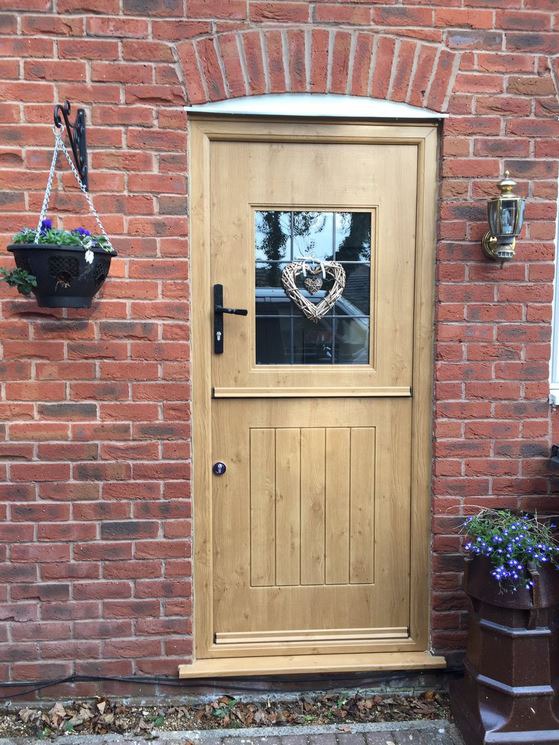 November's Winner
This months Share and Inspire winner was something that we haven't seen in our inbox for a while – a stunning Irish Oak Stable View Light.
Emma, the homeowner has accessorised the Stable Door (often referred to as a Barn Door) beautifully with a wicker heart wreath hanging on the centre of the glass giving the property a real 'country-chic' feel. Further complimented by the gorgeous purple flowers in the hanging basket and tall planter we couldn't be prouder to say 'that's a Rockdoor' – Well done Emma!
Emma didn't just have the one Rockdoor fitted in November either, really going the extra mile to ensure her home is safe at the time of year where burglaries are at their peak she also replaced her front door with an Irish Oak Illinois featuring Trinity glass and wrought iron furniture giving it a real traditional feel. Again the door is complemented perfectly by a black doormat and potted plants!
The Installer
As always a big thank you to the Installer who in this case is Castle Windows based in Northwich who installed both of Emma's front and back Rockdoors and we think they have done a fantastic job.
December will be the last month of our Share and Inspire competition – we'll provide more details of our new competition next month, so enter your door before its too late! All you need to do is email a photo of your door to share@rockdoor.com or tag us on Facebook @Rockdoorltd. Remember the winner receives a £25 M&S gift card – a lovely little treat before Christmas!