Posted by Lea · July 28th 2016
Time and time again, ours customers choose Rockdoor as it's the most secure composite door available, but our customers don't just want security, they want style too.
Safety and security isn't optional with a Rockdoor, it comes as standard, so there are no if's, but's or maybe's involved in the decision making the process. If only that were true when the style is the consideration.
Choosing your door style, colour, glass design, backing glass, furniture colour, handle choice and frame configuration for your front or back door isn't always so easy.
Whilst the Rockdoor visualiser is a great tool in helping homeowners design their own Rockdoor and see it on their property, it doesn't let your imagination run wild with ideas.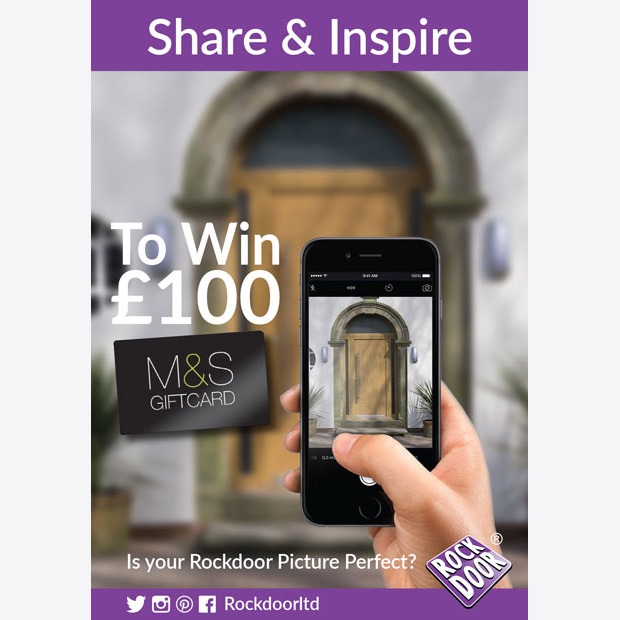 The growth of social networks such as Facebook, Twitter, Instagram and Pinterest have been instrumental in encouraging the sharing of ideas, photographs and trends which inspire others. These may be friends and family members on Facebook and Twitter, or people with common interests to yourself on Instagram and Pinterest.
Starting from August 1st 2016, we will be running a monthly competition called 'Share and Inspire' that gives Rockdoor customers a chance to win £25 M&S gift card every month for the best entry. In addition, any door that is chosen for our 2017 Rockdoor brochure will also win an EXTRA £100 M&S gift card and will have their door professionally photographed.
We are looking for entries across all house styles and all door styles (front doors, back doors, French doors and stable doors). The winners will be chosen not on size or scale of the house, but on how the door complements the house and surroundings in which it's installed.
To enter, simply share a photo of your new Rockdoor on Twitter, Facebook, Pinterest, Instagram or Google+ with @rockdoorLtd tagged. You will then be automatically entered into the £25 M&S gift card competition. (Alternatively, you can email your photo to share@rockdoor.com).
All winning doors will be announced on Facebook and Twitter at the start of the following month. Who knows – your door could be featured in our new 2017 brochure.