Looking for a new Composite Door?
A composite door is an exterior door made from a variety of materials, allowing homeowners such as yourself to combine the best of both worlds; the classic, stylistic appearance of a wooden door intertwined with the ultimate strong physical properties of combining wood with glass-reinforced plastic (GRP), Timber and insulating foam. The phrase 'composite door' is now almost synonymous with 'entrance door', which is unsurprising considering their fantastic resistance to extreme weather conditions and thermal insulation.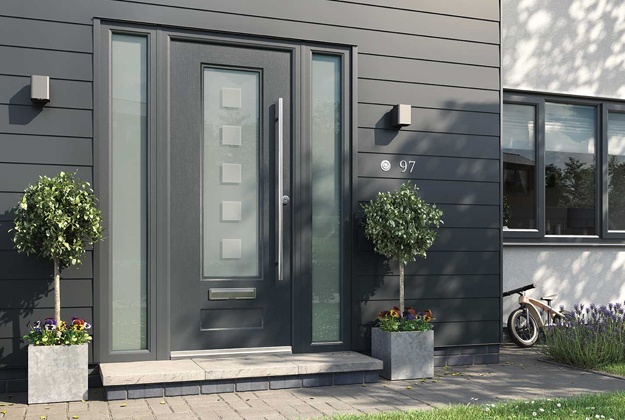 With an attractive wood-grain finish in your choice of colour, composite doors are the ultimate facelift to any home exterior but without the difficulties associated with a wooden door. Requiring nothing more than a wipe down if a composite door becomes dirty, a composite door is more or less maintenance-free. What's more, don't expect a composite door to fade in colour!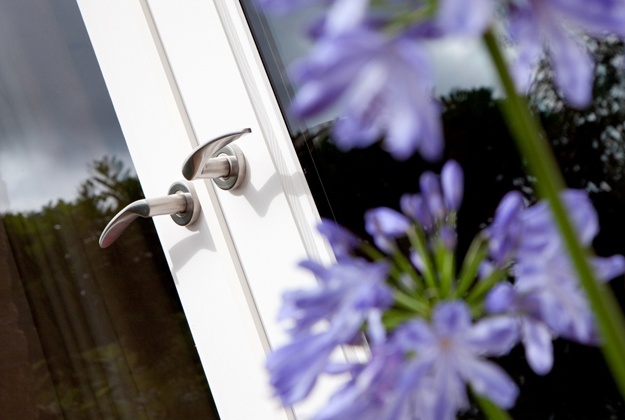 Why Choose a Rockdoor Composite Door?
At Rockdoor we believe that not all doors are made equal; Rockdoor Composite doors are unique in terms of security, energy ratings and style.
Since we started making composite doors in 1996, we have come a long way and produced almost a million exterior doors from our Lancashire innovation and production centre, but just because we are the best at what we do doesn't mean we will ever stop innovating. With homeowners throughout the UK trusting Rockdoor to protect their homes and families, you know you're buying the best composite door when you buy from Rockdoor.
Each of our doors is tailor-made to your exact specification meaning there is no need for cutting or altering to fit, which is often the reason for external doors weakening. A typical composite door can be made up of a mixture of materials such as GRP, Timber and PU Foam to reduce the amount of warm air escaping and cold air entering a property. At Rockdoor, our composite doors are slightly different in that we don't use timber through any of our ranges because of the reasons listed above (twisting and warping). Instead, we use materials such as Carbon Fibre to reinforce the core of the door resulting in a strong, thermally efficient door you can put your trust in.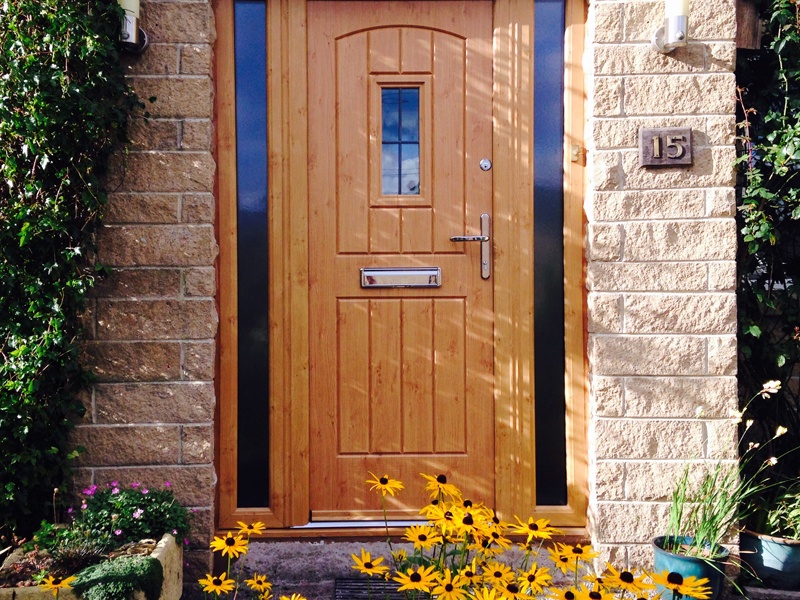 Top Benefits of a Rockdoor Composite Door:
Unbeatable strength – independent tests show this!
Cost effective – it will well outlast a uPVC or timber door
Widest range of A++ doors
Brilliant sound proofing quality – great for those living on busy roads
A range of door and glass designs available
Low maintenance
Various accreditations including Kitemark, Secured by Design, Sold Secure and PAS 24
Feature the most secure locking system available
A range of high quality, stylish furniture to choose from
Choosing the right Rockdoor Composite Door
With so many different styles, prices, security and energy ratings available choosing the right composite door can be difficult, which is why we have over 20 different Rockdoor designs available. From our timeless classics to uber contemporary – we have something to suit everyone.
All of our doors are available in 13 different colours and with a choice of glass designs and furniture options, so you can be sure that you can find a door that's right for you and your style of property.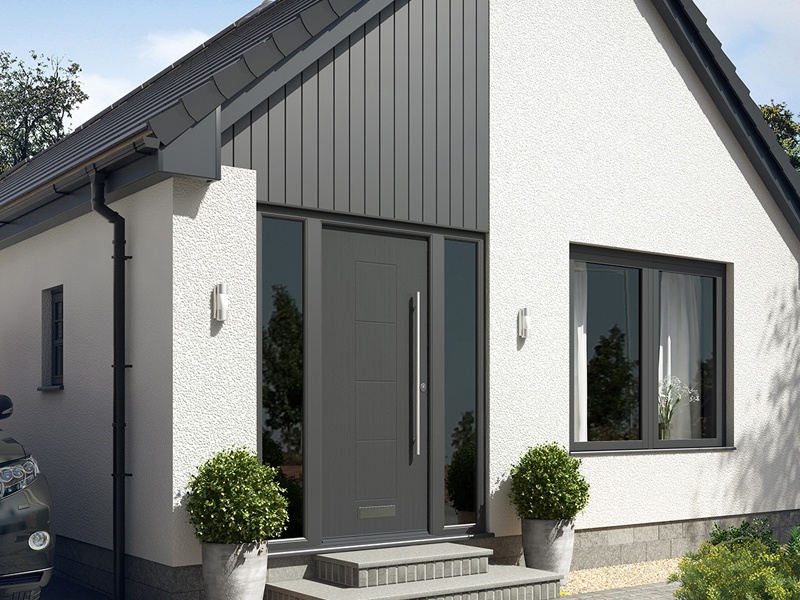 Whichever Rockdoor range you choose a door from you can rest assured that it will last the test of time, we are extremely proud that our range of composite doors last well over 30 years, even with excessive slamming!
To browse our range of door styles, take a look at our door gallery page or if you already know which Rockdoor composite door is right for you, we have a network of approved installers throughout the UK waiting to give you a free no-obligation quote, find your local installer today.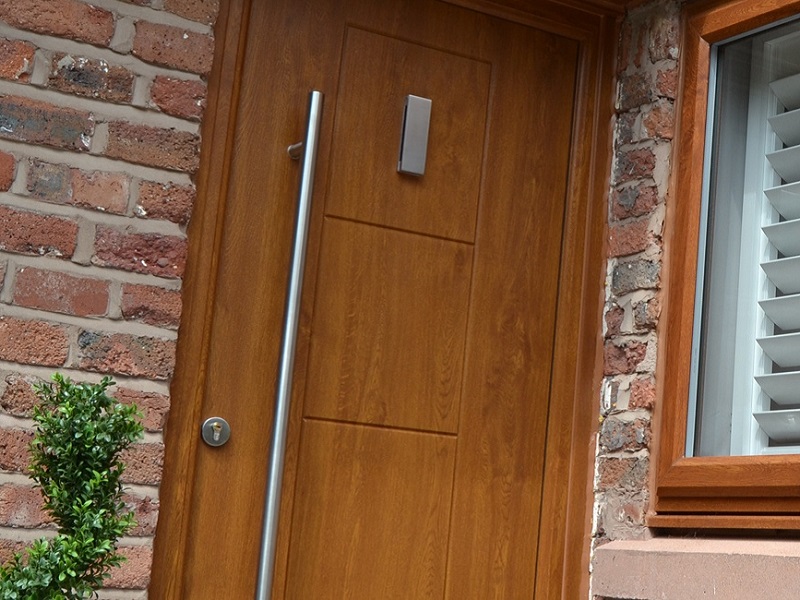 Reasons to Choose a Rockdoor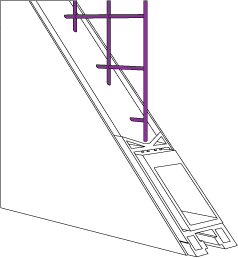 Core Benefits
Rockdoors inner strength is unsurpassed thanks to a combination of a 360° aluminium reinforced inner frame and high-density thermally efficient PU foam. Customers can also choose steel mesh reinforcing for the ultimate in security.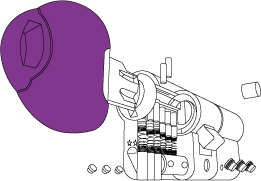 £1,000 Guarantee
Our lock cylinders are burglar proof. A TSOO7 3 star rating, SS 312 Sold Secure Diamond Standard and Secured by Design accreditation see to that, plus our £1,000 security guarantee. Customers also receive three Rockdoor branded keys as standard.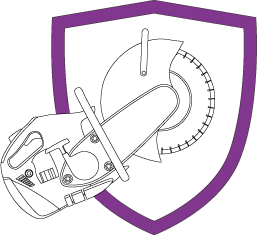 Forced Entry
Rockdoors are designed for strength, it is in our DNA. For over 25 years, we have led the way in composite door development to ensure our doors protect homes and families from unwanted intruders and forced entry.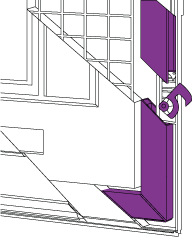 Hook up with Rockdoor
Strong sintered steel multi point hook locks with a 25mm throw, securely attach the door to the frame to ensure it cannot be forcibly opened by burglars whilst ensuring a better sound and weatherproof seal.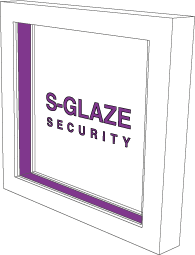 Glass Leading Security
Rockdoors feature S Glaze technology, meaning your glass is locked into your door for life, for added security. It also means no glazing cassettes are used which are prone to fading and discolouration.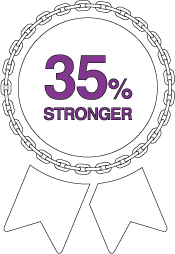 Stronger, it's Official!
Rockdoor is consistently found to be one of the most secure doors available in the UK, studies show that a Rockdoor is 35% stronger than a typical GRP door.