We've put together a series of FAQs to help answer many of the common questions our team and the wider Rockdoor trusted installer teams are often asked about Rockdoor doors and composite doors in general. You can learn more and get more answers in our Technical FAQ.
Simply click on the question headings below to open and see the answers.
What is a composite door and how do they differ from a Rockdoor?


A composite door is made from a variety of materials within the core and is commonly fronted with a glass reinforced plastic (GRP) skin which is then moulded to a style. Various glazing apertures are then cut from a solid door and a glass design is clipped into place to provide light.

Rockdoor composite doors are different to the average composite door as they have additional layers of security features including an internally reinforced 360 degree aluminium frame, steel security mesh (optional), steel keeps and a high density core (amongst other things).

Find out more about Rockdoor composite doors.
What makes a Rockdoor stronger than other composite doors?

There are many elements that make Rockdoor doors more secure than commonly found GRP foam filled and timber composite doors. These include steel security mesh, an aluminium box section and S-Glaze technology. All of these features are not included within timber core composite doors or GRP composite doors, meaning a burglar can easily gain access through the sash or glass aperture of the door.

You can find out more about Rockdoor's unique security features on our security features page.
What Guarantee does my new Rockdoor come with?

All Rockdoor's come with a 10 year guarantee as standard which covers the overall performance of the door. Additionally, a further guarantee is offered for security based on the Rockdoor's 3-star diamond sold secure security cylinders. At Rockdoor we're so confident that our lock cylinders cannot be snapped, bumped, drilled or picked (a common way thieves gain entry) that we offer a £2,000 guarantee against this happening.

We also offer a 3mm bow guarantee, to give complete peace of mind to homeowners that their doors aren't subjected to the difficulties that hot and cold weather can bring.

More details about our guarantee can be viewed on our Rockdoor door guarantee page.
Can I fit alarm contacts to a Rockdoor?

If the alarm contacts are secured using a self-adhesive strip only then yes, you can fit alarm contacts to a Rockdoor frame without this affecting the guarantee.

If the contacts are applied by screwing directly into the frame, then this will invalidate the guarantee as the frame will have been tampered with, which can cause various issues to arise.
What do I do if I get locked out of a Rockdoor?

Locking yourself out can be one of the most frustrating things you can do, and we are all guilty of having done it!

In the event you find yourself locked out of your property, you should contact your installation company, or if this is not an option, you should contact a locksmith.

With Rockdoor, one of our security features that ensures burglars cannot gain entry to your home is that the cylinder will enter lockdown mode, resulting in a hidden lock within the molybdenum cam firing in to action if forced entry is detected, therefore it's important that you never tamper with the lock yourself.
Where can I get additional Rockdoor branded keys from?

Every Rockdoor comes with 3 purple branded keys as standard, should you need more you can simply go to your local locksmiths and they will cut them for you. Or if you need more purple branded keys, just ask your Rockdoor Trusted Installer.
How do I keep my Rockdoor looking as good as new?

One of the many great things about Rockdoor composite doors are how easy they are to maintain. All that is required to keep your door looking like new, is an occasional wipe down with warm soapy water – it really is as easy as that!

Rockdoor doors that features stainless steel furniture comes with their own stainless steel cleaning kits, as they require more regular maintenance (instructions will be included where necessary).

It's important Rockdoor doors aren't cleaned with any abrasive cleaners, as these may tarnish the surface finish.
Can I paint my Rockdoor composite door?

We understand that sometimes everyone fancies a change and due to the realistic timber aesthetics of a Rockdoor you may think it could be easily painted or sprayed. However, painting a Rockdoor would invalidate your guarantee. Each Rockdoor features a PVC-U skin that is specifically designed to maintain colour and be low maintenance for a lifetime.
Can I retro fit a cat flap in a Rockdoor?

Whilst it may be possible to retro fit a cat flap into a Rockdoor, this does not come without the potential for issues to arise with your door, as such, we would strongly recommend against retrospectively fitting a cat flap into your Rockdoor, as this will invalidate the guarantee.

Should you require a cat flap on your Rockdoor, you can ask your local installer to add this to your quote. All our cat flaps are precision cut using CNC machines which are then factory fitted to an extremely high standard to pass extensive quality checks.
Do Rockdoor sell doors directly to the public?

Here at Rockdoor, we only sell our doors to the trade, we do not sell directly to the public or use our own fitting teams to install the doors ourselves. You can find your local Rockdoor Trusted Installer (someone we recommend).

The reason we do not sell doors directly to the public, is because it's essential that a competent trade professional with experience of heavy door installation installs the door for you. Unlike conventional doors, a Rockdoor can weigh up to 100kg, so it's important they are installed correctly and to Rockdoor's thorough fitting instructions. By using one of our trusted installers, we can ensure that you get the right level of experience and quality service that only a well trained Rockdoor door installer can provide. Find a local Rockdoor installer today.
Are there any Rockdoor showrooms where I can view to the doors?

A number of our Rockdoor Trusted Installers across the UK have impressive showrooms with a range of door styles and glass designs on display for you to visit and view a wide range of available doors. They will also offer you the opportunity to get hands on with a Rockdoor, allowing you to open and close and generally feel the incredible quality of the door for yourself.

If you have a local Rockdoor Trusted Installer near you with a showroom, it's well worth visiting to see the Rockdoor difference for yourself. However, in some cases, this may not be possible, so in those cases, we advise you to take a look at our online door designer and consider downloading a PDF version of our Rockdoor door brochure.

You can find a local Rockdoor installer showroom on our website, by looking out for the showroom icon shown below on the door installers page.
Is it possible to custom design a Rockdoor?

Of course. At Rockdoor we are lucky enough to have exclusivity on the industries first 3D door designer which features all our amazing door styles, colours and accessories.

Simply, use our 3D door designer to create the composite door of your dreams in 360 degree clarity and go on to find an installer near you. Your design will then be forwarded to your chosen installer, who will contact you within 48 hours to arrange a quote and to answer any questions you might have.
How can I contact Rockdoor's customer services?

As Rockdoor doors are purchased through a trade installer, not the homeowner, any queries will need to be directed through your original installer. They can they raise a service log with Rockdoor directly and resolve any issues as quickly as possible. Our large and dedicated customer service team work to resolve all queries within 72 hours as we realise how important a fully functioning secure door is to homeowners.
Who are the Rockdoor Trusted Installers?

A Rockdoor Trusted Installer is a specially chosen composite door installer that we put through an intensive training course, to ensure they install all our doors to the highest of standards. Our reputation depends on the installers that fit the doors, therefore, it's important we invest in them.

Additionally, Rockdoor Trusted Installers are fully insured, offer robust guarantees and are often Fensa or Certass registered (the trade bodies).
How can I ensure I'm using a Rockdoor Trusted Installer to install my Rockdoor?

If you want to ensure that any door installer offering to install a Rockdoor for you is part of our Trusted Rockdoor Installer scheme, you can check for yourself by entering their postcode on our find a trusted installer page which will present you with a list of the installers nearest to the postcode you have entered.

You can also use our find an installer search if you're looking for a local installer near you, simply enter the postcode of the property where the installation is due to take place, to find a Rockdoor Trusted Installer near you.
Reasons to Choose a Rockdoor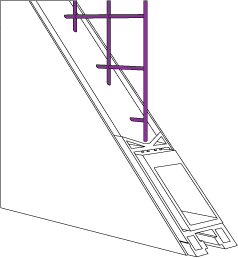 Core Benefits
Rockdoors inner strength is unsurpassed thanks to a combination of a 360° aluminium reinforced inner frame and high-density thermally efficient PU foam. Customers can also choose steel mesh reinforcing for the ultimate in security.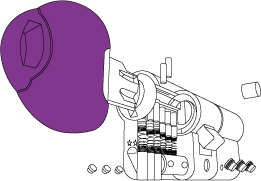 £2,000 Guarantee
Our lock cylinders are burglar proof. A TSOO7 3 star rating, SS 312 Sold Secure Diamond Standard and Secured by Design accreditation see to that, plus our £2,000 security guarantee.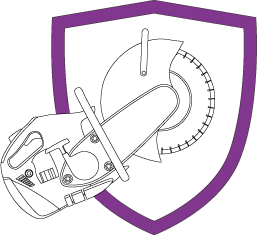 Forced Entry
Rockdoors are designed for strength, it is in our DNA. For over 25 years, we have led the way in composite door development to ensure our doors protect homes and families from unwanted intruders and forced entry.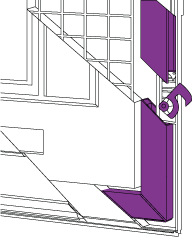 Hook up with Rockdoor
Strong sintered steel multi point hook locks with a 25mm throw, securely attach the door to the frame to ensure it cannot be forcibly opened by burglars whilst ensuring a better sound and weatherproof seal.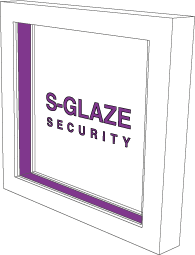 Glass Leading Security
Rockdoors feature S Glaze technology, meaning your glass is locked into your door for life, for added security. It also means no glazing cassettes are used which are prone to fading and discolouration.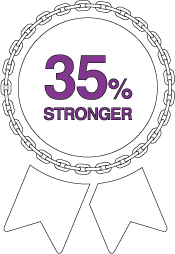 Stronger, it's Official!
Rockdoor is consistently found to be one of the most secure doors available in the UK, studies show that a Rockdoor is 35% stronger than a typical GRP door.