Secure doors are nothing without secure locks
There are many components that contribute to Rockdoor being the most secure door on the UK market, with locks being just one of them.
With most exterior door manufacturers using different locking systems and components, we wanted to ensure you know, exactly why Rockdoor locks are so secure resulting in an entrance door that is both stylish and 'Secured by Design'.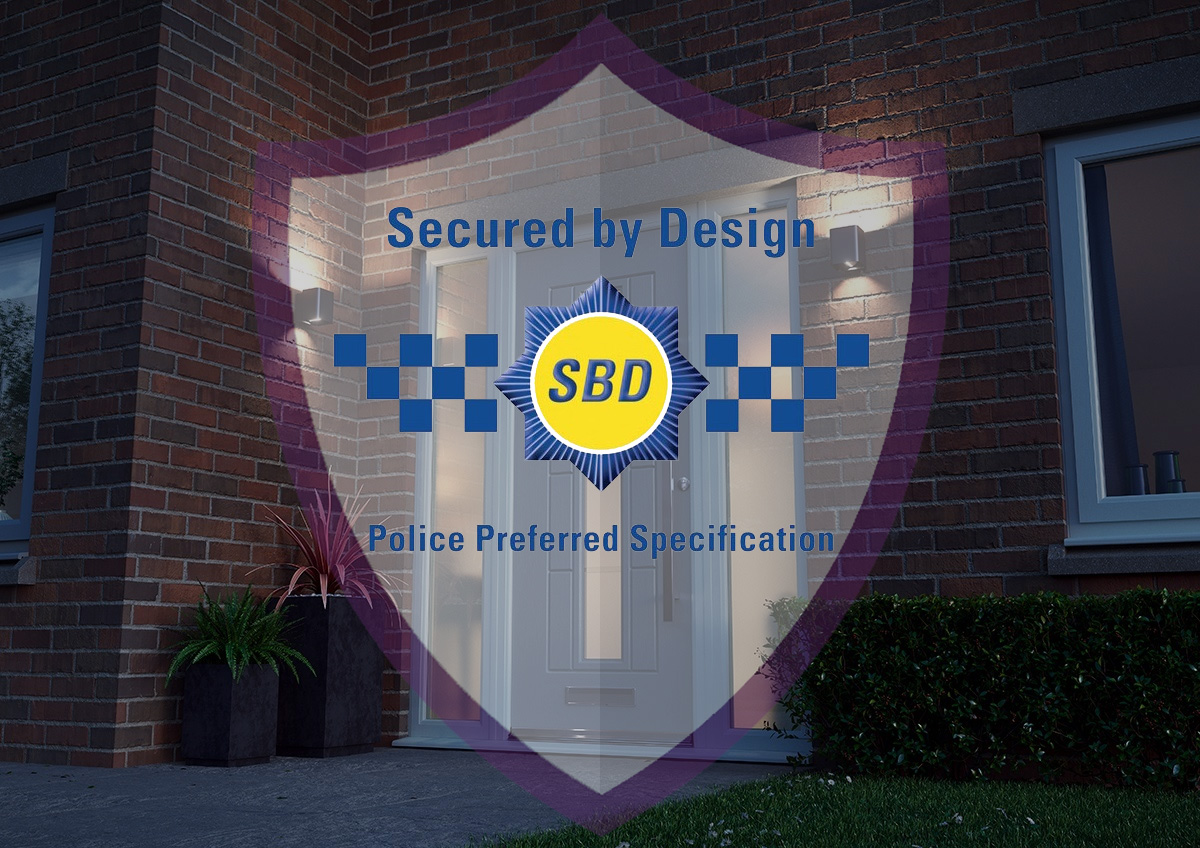 View the Rockdoor range of composite doors
The Rockdoor range of composite doors comes in 28 composite door styles, available in 13 different door colours. So no matter if you're looking for new front doors, back doors or even double doors, French doors or stable doors. There's a wide range of Rockdoor composite doors available to compliment the look and style of your home.
Locking cylinders
If you don't work in the external door industry locking cylinders can be somewhat of a minefield, but rest assured that at Rockdoor, we pride ourselves on using the very best components, such as a 3-star Diamond Sold Secure Cylinder, which is one of the most secure key-operated locks in the industry.
Thanks to this 3-star rating (the very best rating a cylinder can achieve) our lock cylinders are completely burglar proof meaning they can't be bumped, drilled or snapped – the most common ways burglars try to gain entry into a property.
Should our composite door locking cylinder detects forced entry, a hidden lock within the molybdenum cam fires into action, meaning burglars cannot get through, keeping your home and everyone in it safe and secure.
In fact, we are so confident that Rockdoor cylinders are 100% burglar proof we offer a £2,000 security guarantee to all our customers!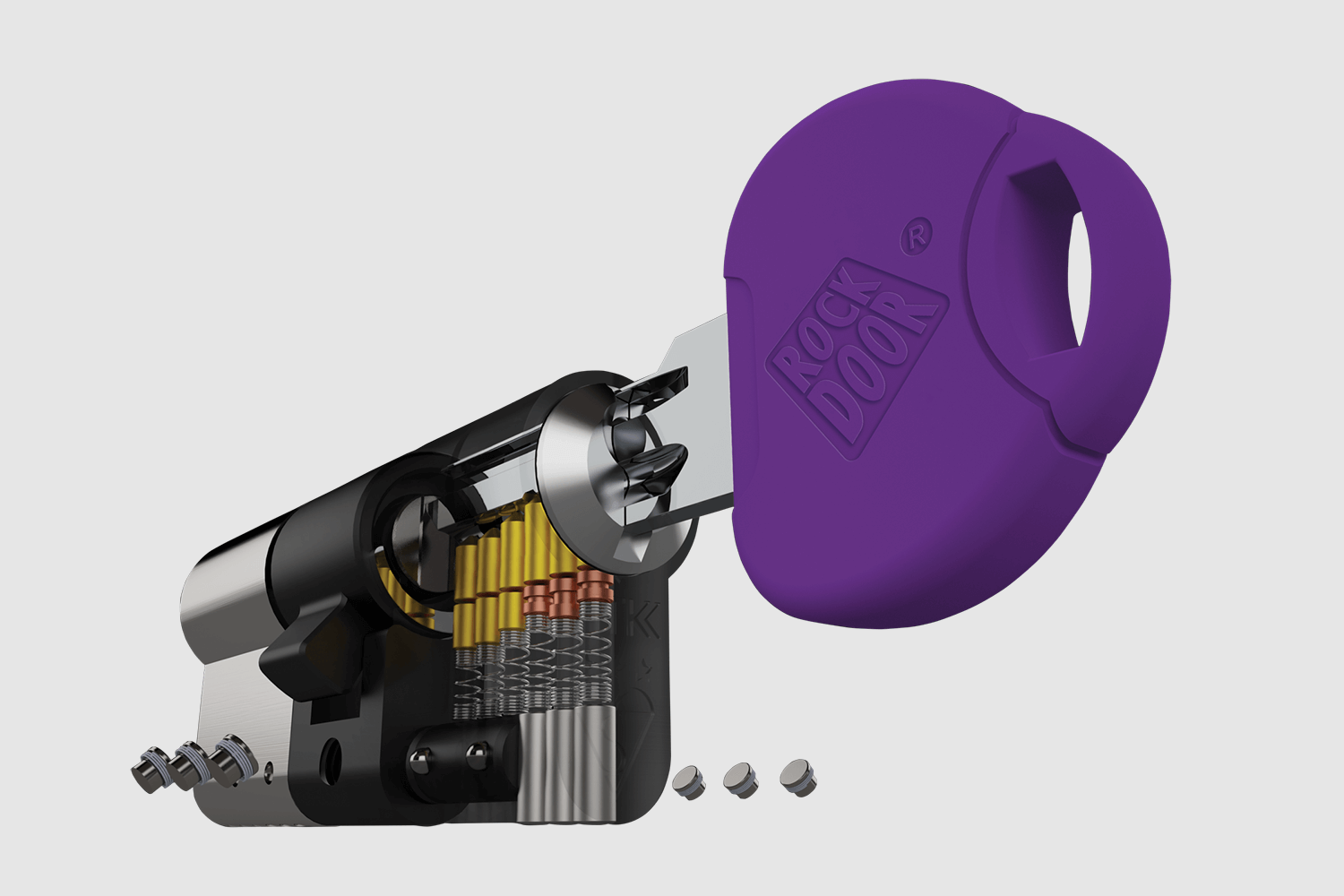 Multi-point locks
Along with our 3-star Diamond Sold Secure Cylinders, each of our doors that are manufactured from our Lancashire based production facility also comes with a multi-point locking system, as standard.
All our multi-point locking systems use German engineered, solid steel hooks which attach the door sash to the frame using full length keeps, rather than individual pocket keeps, which other composite door manufacturers may use resulting in a much less secure door.
Whilst all Rockdoors are manufactured with a 2-hook locking system homeowners do also have the option to upgrade to a 4-hook design. However, our 2-hook multi-point locking systems are already enough to achieve our extremely high security standards!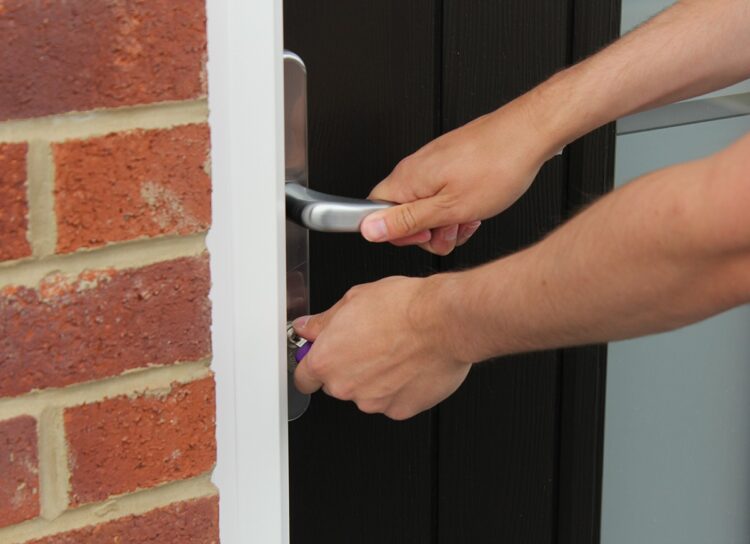 Switch latch
Whilst our 3-star cylinders and multi-point locks come as standard on all Rockdoors, a switch-latch is simply an optional part of the locking mechanism, which allows you to control whether your composite door completely locks behind you, like a slam lock would, or whether your door can open and close freely in a similar way a roller-latch would operate.
The switch-latch is commonly found on some of our more contemporary door styles, such as the Vermont, Vogue and Indiana. These door styles all typically feature a stainless-steel bar handle – a look that is becoming increasingly popular on homes across the UK.
If your door does feature a switch latch, then you will need to use the key or thumb turn to engage the multi-point locking system completely.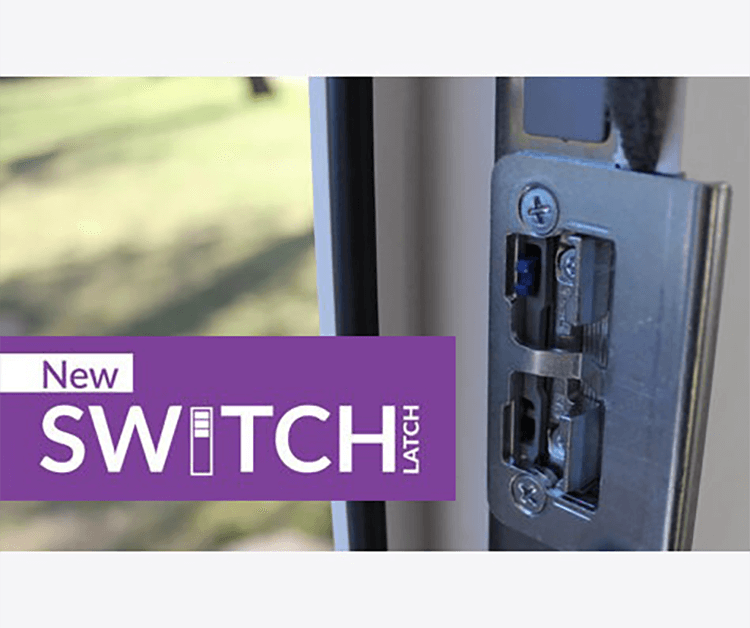 Rockdoor keys
When ordering a Rockdoor you will get three branded purple keys per door. However, for Stable doors as they come with two locking cylinders, one for the top and one bottom of the door, then this comes with six keys (three keys per cylinder).
We understand that sometimes keys can get lost and that moment of realisation when you lose a key can be stressful, however, getting replacement keys for your Rockdoor really could not be easier.
Simply request blank keys from the installer that fit your Rockdoor and take these to your nearest high street key cutters, such as Timpson's.
In the very rare event that your lock fails, or you need to change the lock cylinder on your Rockdoor, the cylinders are completely changeable, you will just need to contact your installer who will be able to make the required changes.
All Rockdoor Trusted Installers have comprehensive training on all things Rockdoor, including our locking mechanisms. Find your local Trusted Installer today.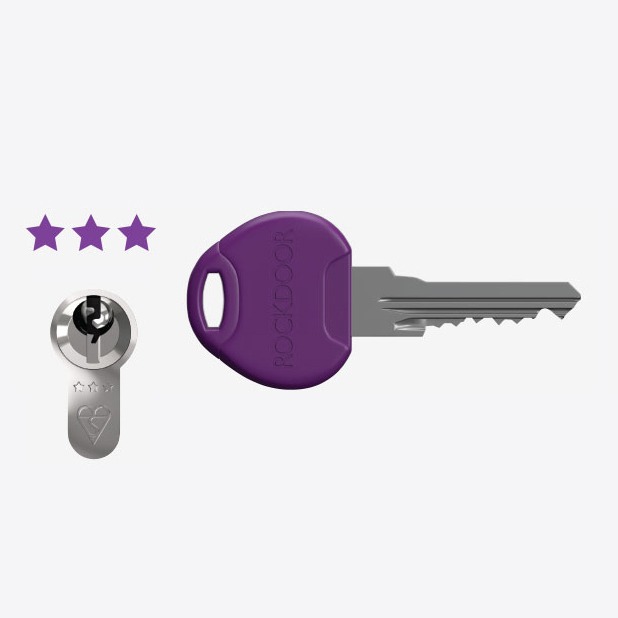 Rockdoor Brochure and Technical Manual
For more information on our range of composite doors, download our Brochure and Technical Manual.
Reasons to Choose a Rockdoor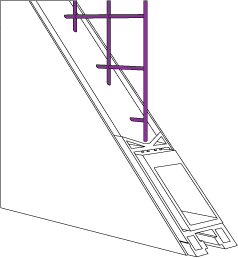 Core Benefits
Rockdoors inner strength is unsurpassed thanks to a combination of a 360° aluminium reinforced inner frame and high-density thermally efficient PU foam. Customers can also choose steel mesh reinforcing for the ultimate in security.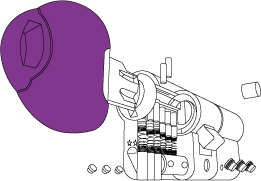 £2,000 Guarantee
Our lock cylinders are burglar proof. A TSOO7 3 star rating, SS 312 Sold Secure Diamond Standard and Secured by Design accreditation see to that, plus our £2,000 security guarantee.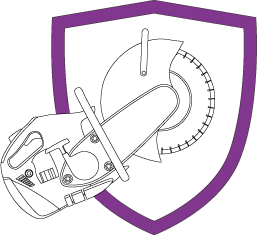 Forced Entry
Rockdoors are designed for strength, it is in our DNA. For over 25 years, we have led the way in composite door development to ensure our doors protect homes and families from unwanted intruders and forced entry.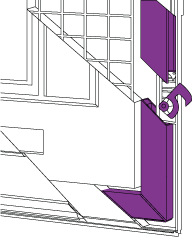 Hook up with Rockdoor
Strong sintered steel multi point hook locks with a 25mm throw, securely attach the door to the frame to ensure it cannot be forcibly opened by burglars whilst ensuring a better sound and weatherproof seal.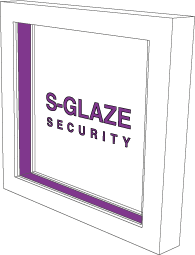 Glass Leading Security
Rockdoors feature S Glaze technology, meaning your glass is locked into your door for life, for added security. It also means no glazing cassettes are used which are prone to fading and discolouration.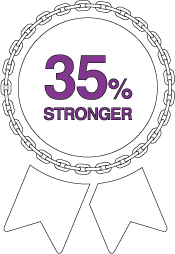 Stronger, it's Official!
Rockdoor is consistently found to be one of the most secure doors available in the UK, studies show that a Rockdoor is 35% stronger than a typical GRP door.