Posted by Lea · March 5th 2012
Thousands of properties across Lancashire benefit from the security of a Rockdoor composite door, but while the doors protect homes and businesses they can also make it difficult to enable access in emergency situations, which is something we wanted to work on with the emergency services.
While acknowledging the high levels of safety and security against burglary that a Rockdoor affords (both front doors and back doors), Lancashire Fire & Rescue Service also identified the access issue challenging the emergency services.
Keen to assist, Rockdoor opened its Blackburn facility to the Service, allowing them to operate an 'on-site' training day. This enabled the firefighters to experience, at first hand, the specialist tools and force required to gain access through a Rockdoor, should the unlikely situation arise.
For this exercise, Rockdoor provided a rig containing 3 different doors, affording the firefighters valuable practice using new state-of-the-art cutting equipment and different entry techniques to gain access to the UK's strongest composite door. Rockdoor engineers were present throughout, providing technical information, expert advice and assisting the crews as required.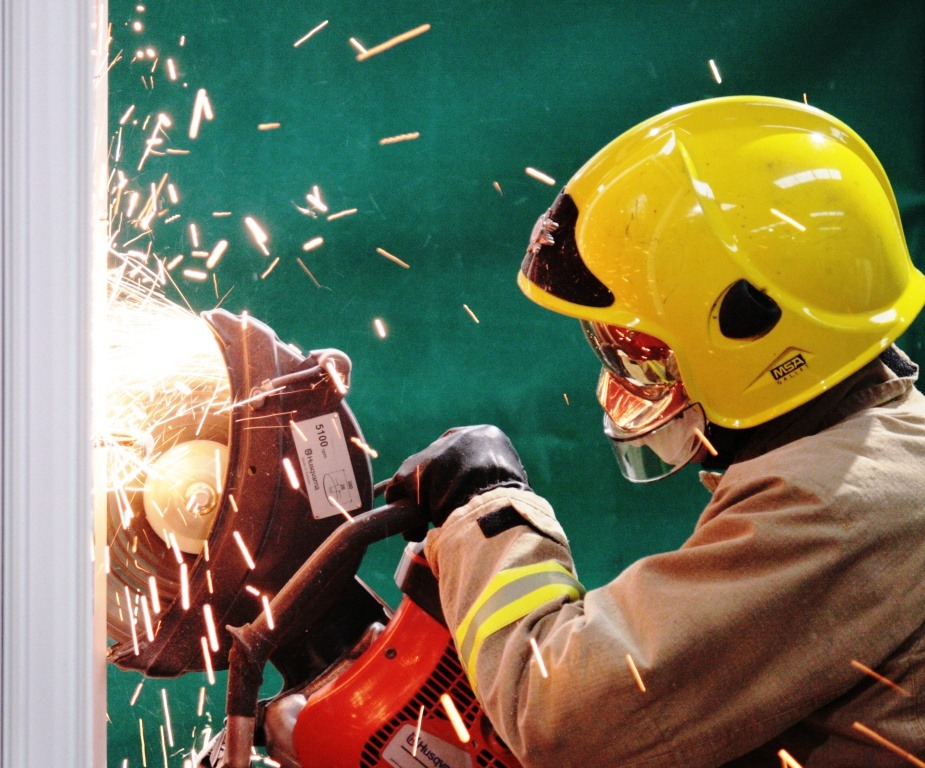 Group Manager Alan Walker of Lancashire Fire and Rescue Service commented on this unusual move by the Service. "High-security doors intended to keep burglars out create a challenge too for firefighters with the legitimate reason for breaking into rescue people.
We'll allow nothing to compromise our ability to rescue people without delay, so by approaching market leaders Rockdoor to help us devise entry techniques for firefighters but not for burglars, we knew we'd face no tougher challenge to get it right the first time.
A high-tech door required a high-tech approach, using a heavy-duty diamond-tipped blade in a power saw, something that a burglar would be unlikely to carry around with them, much less dare to wake the neighbourhood by using! We're extremely pleased with the outcome and immensely grateful to Rockdoor for the use of their products, premises and company experts on hand."
Simon Bird, GAP & Rockdoor's Joint MD added, When approached by Lancashire Fire & Rescue Service, our initial reaction was to question why we'd let anyone practice getting into a Rockdoor.
After all, we developed the door to be incredibly strong and virtually impossible to break in. However, we recognise the potential difficulties such a secure door could present in an emergency and felt it was our obligation to accommodate and assist the Service as best we could.