Posted by Lea · May 9th 2016
At Rockdoor we understand that every home is different – and so they should be.
That is why all Rockdoor composite doors are made to order to meet your exact requirements. Our Bespoke doors allow you, the homeowner to customise the way your front or back entrance looks giving you control from start to finish.
If you are struggling to find something that fits the exact style of your home in our brochure, or you simply want something a little different, but crucially you don't want to compromise on the security and protection that Rockdoor provides, don't worry we have the solution in the Rockdoor Bespoke service.
With over 25 years of experience in designing and manufacturing composite doors, nothing is too big a job for our bespoke team.
All you need to do is choose a style of door from our range and then work with your installer to add your own personal touches, whether that be an archway, a double door entrance or creating your own glass design – we can do it all. Your Rockdoor installer will then contact our bespoke team here at Rockdoor to start the process of personalising your door.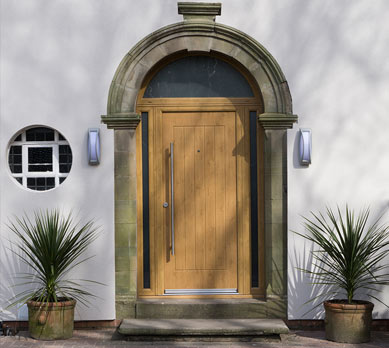 On this page are just a few examples of the door designs our bespoke team have recently worked on:
Above is an Irish oak Indiana Rockdoor with an arch to perfectly fit the door aperture.
To the left is a Chartwell green Newark Rockdoor which features the lantern glass design throughout the door and dome shaped frame.
Below is a black Jacobean and bespoke glass design which incorporates the red brick design of the customer's home.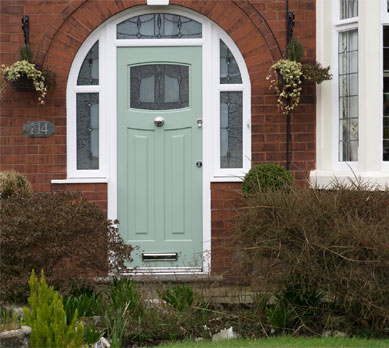 This customer (right) had a vision of what they wanted their front door to look like and how they wanted to tie in the red brickwork of their home to their new composite door.
As our bespoke doors are all chosen from our Ultimate Series this guarantees the strongest and most thermally efficient composite door on the market. Thanks to carbon fibre reinforcement, S-glaze technology and a 3 star cylinder it will be impossible to find a door that rivals composite doors from Rockdoor.
Ready to begin your search for a new composite door? You can browse our full range of Rockdoor composite doors and even design your own Rockdoor in our online door designer.
There are also local Rockdoor Trusted Installers based all across the UK ready to help you with the design and installation of your new Rockdoor.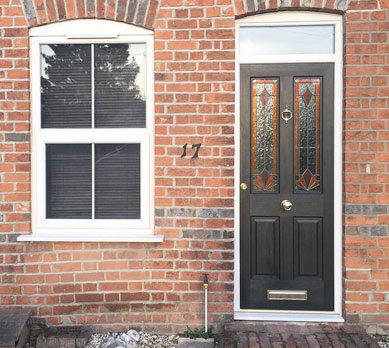 Rockdoor Brochure and Technical Manual
For more information on our range of composite doors, download our Brochure and Technical Manual.