Posted by Lea · January 3rd 2018
From Contemporary to classic Rockdoors, we've received them all this month.
As we do every month for our Share and Inspire competition, we received a huge number of our ever popular Vermont Ultimate composite door in the modern and stylish colour, Anthracite Grey (RAL 7016). Continuing to show just how popular the Rockdoor Vermont really is when it comes to updating a property with a composite door that boasts style and security.
Another great trend that we have noticed becoming increasingly popular with homeowners throughout the UK is the use of colour contrasting frames on their Rockdoors – and we have to say, we're a big fan!
We've seen such a huge range, seeing everything from a Light Oak front door with Cream or Chartwell Green frame to an Anthracite Back door with a Black Frame – what a great way to make a statement!
Whatever style you choose whether it be for a back door, patio doors or front door remember having a Rockdoor doesn't just let people know that your conscious of style, it also lets them know that security is high on the agenda.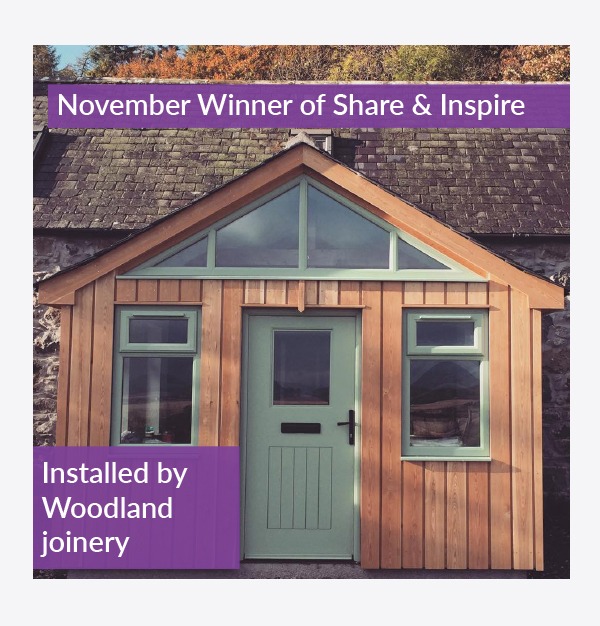 This month the winner of our Share and Inspire competition is a little different to our past couple of winners in that, the winner is a slightly more traditional styled front door! It is both beautiful, eye-catching and unique.
With the voting being unanimous, the winner of our November Share and Inspire winner is a Chartwell Green Cottage View Light, which perfectly matches the Chartwell Green windows on the property. The Chartwell Green looks great with the wooden cladding on the porch of the property; it really is a deserving winner!
A big thanks has to go, Woodland Joinery in Morayshire, who installed the door – what a great job!
Since we chose the Cottage View Light as our winner, the homeowners have sent in a gorgeous shot of the cottage covered in a blanket of snow! We love seeing Rockdoors dressed for Christmas and we hope we receive even more throughout December!
Remember the winner receives a £25 M&S voucher, so if you haven't entered yet, make sure you send in your photo to share@rockdoor.com. Alternatively, you can send it through Facebook or Twitter @rockdoorltd