Posted by Charlotte · May 19th 2022
Rockdoor Debut at the FIT Show
Rockdoor are delighted to come away from a three-day stint at the FIT show in Birmingham, with hundreds of new leads and debuting as one of the most popular stands at the show.
A team of expert staff were on hand over the course of the three-day convention to talk to customers, old and new, about all things Rockdoor, after several previous cancellations due to COVID.
A large part of the success is down to the unique and eye-catching stand design crafted by our team, standing at over 12 feet tall, and fitted with 12 beautifully unique Rockdoors, including our entirely new door texture, which features a truly contemporary finish.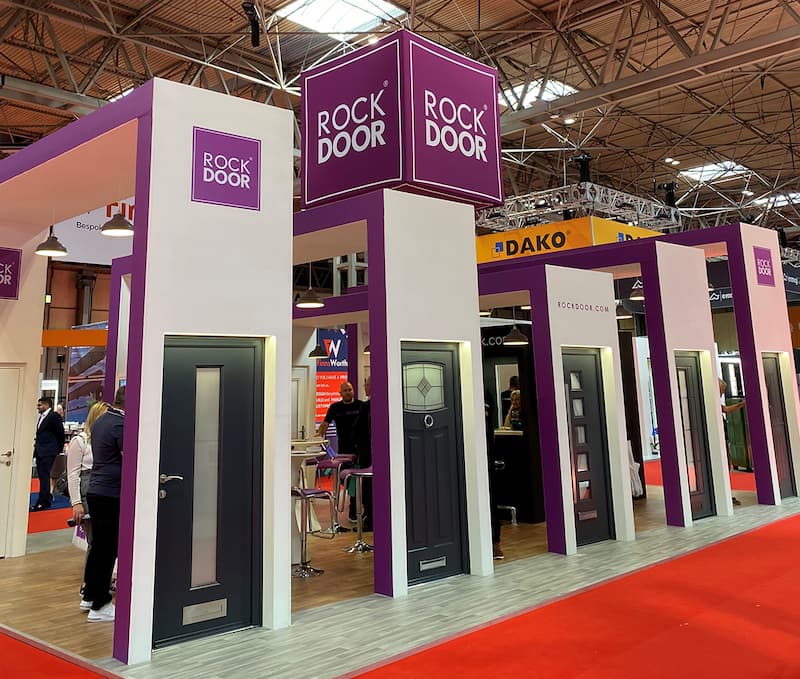 The response was so great that we are already following up with lots of new customers wanting to become Trusted Installers around the country, as Mark Simm of Rockdoor explains:
"To say we were blown away with the response to our first appearance here would be a big understatement. After the initial show being postponed due to COVID, we were delighted to finally get the chance to showcase Rockdoor and it could not have gone any better. We've wanted to exhibit for a long time now, but the timing was never quite right, so it's great to finally tick that box.
"We are so thankful to all the faces, new and old, who took time out of their busy day to come and see why Rockdoor is the most unique composite door of its kind on the market.
"We now look forward to strengthening those existing partnerships and welcoming lots more Rockdoor Trusted Installers across the country." After this year's success, we have already committed ourselves to the FIT Show 2023, where we hope to build on a fantastic first outing and see many more faces next time out.